Roll over image to zoom in

Description

Smart Technology — More connected for more confidence and control
Spektrum™ Smart Technology is about offering a higher connection to your hobby. It's an RC ecosystem that puts you in complete control while making vital components of your model easier to use than ever before. Smart technology ensures that all of your model's electronics work together seamlessly for the greatest efficiency and performance. It keeps you aware of every component's status, boosts your confidence in its capabilities, and makes your entire system more responsive and simple to use.
Spektrum radios with Smart features can download firmware updates instantly using Wi-Fi and can swap setups with compatible radios via Bluetooth. Spektrum Smart LiPo batteries have a built-in microchip that records and communicates your charging preferences automatically to Smart chargers — just connect your pack and press "Start." Smart IC™ series connectors include an innovative data wire that transfers information easily between Smart components with a single connection. Finally, Smart ESCs not only deliver power but also eliminate the hassles from running telemetry. The days of installing and connecting multiple wires, sensors, modules and links are over.
Overview
The Smart Technology Powerstage Bundle is a one-box solution for large vehicles requiring top performance. Designed with the simplicity of Smart Technology, the bundle includes (2) 5000mAh 4S 50C Smart batteries, (1) S2100 Smart AC Charger and (2) charge adapters to make charging easy.
What's in the Box?
(2) 14.8V 5000mAh 4S 50C Smart LiPo, Hardcase, IC5
(1) Spektrum Smart S2100 AC Charger, 2x100W
(2) Spektrum IC3 Battery / IC5 Device, 4" Adapter
SPEKTRUM SMART BATTERIES
You'll never have to set charge preferences for a Spektrum Smart battery until you want to. When a Spektrum Smart LiPo battery is connected to a Spektrum Smart charger, unique parameters and health of that Smart LiPo battery upload from the Smart memory microchip integrated into the battery. Through the charger, you can view and set preferences, such as charge rates, so that all you have to do to charge the pack every time is press the charger "Start" button. Smart technology takes care of the rest. Our Spektrum Smart 50C LiPos are ready to drop into your RC car or boat for better performance, power, and reliability. These battery packs are a great upgrade for those looking to get more punch and off the line power on nearly any setup.


Key Features:
Integrated microchip stores unique parameters for each battery.
Smart discharge allows batteries to automatically discharge to a safe voltage.
Save time and hassle, while improving battery life.
Powerful 50C continuous discharge rating to deliver high performance and longevity.
Impact resistant ABS plastic hardcase.
No soldering required, equipped with IC3 and IC5 Connectors that are compatible with EC3 and EC5.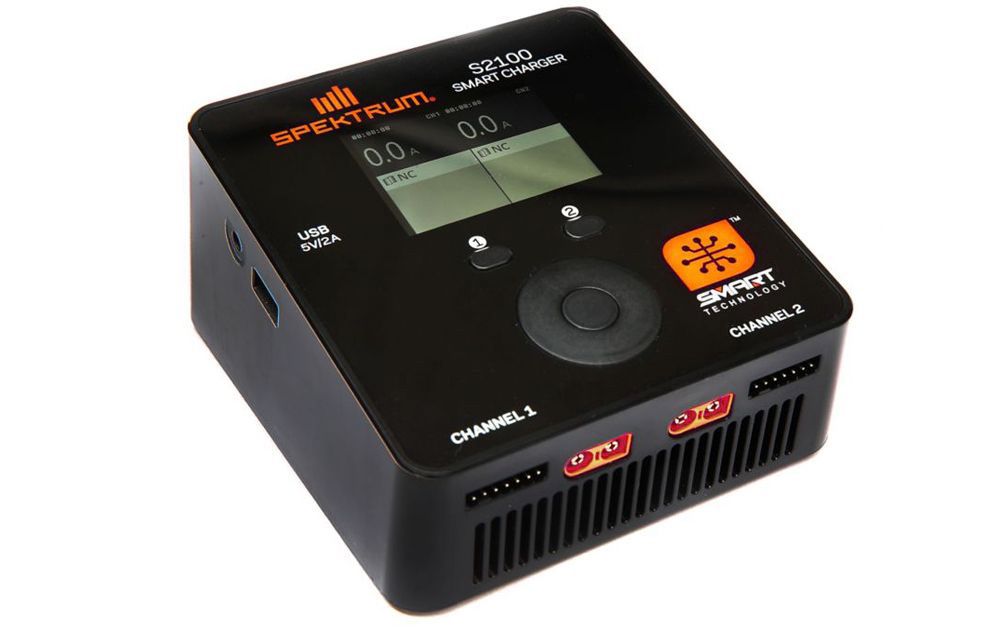 SPEKTRUM SMART CHARGER
The Spektrum™ S2100 Smart Charger is the first dual-output AC Smart Charger to feature Spektrum Smart Charging technology. Small and portable, this 200W charger features the Spektrum IC3™ connector that delivers a robust connection that also reads vital battery content that relays to a bright LCD color display to clearly show unique information and log data about your Smart Battery such as how many charge cycles the pack has, and much more.


Key Features:
High-visibility color LCD screen
Simple touch-wheel interface.
Intelligent software makes charging simple.
Compact design with impressive output capacity.
High-speed processor delivers amazing performance.
Efficient, internal cooling system.
Backward compatible with non-Smart batteries.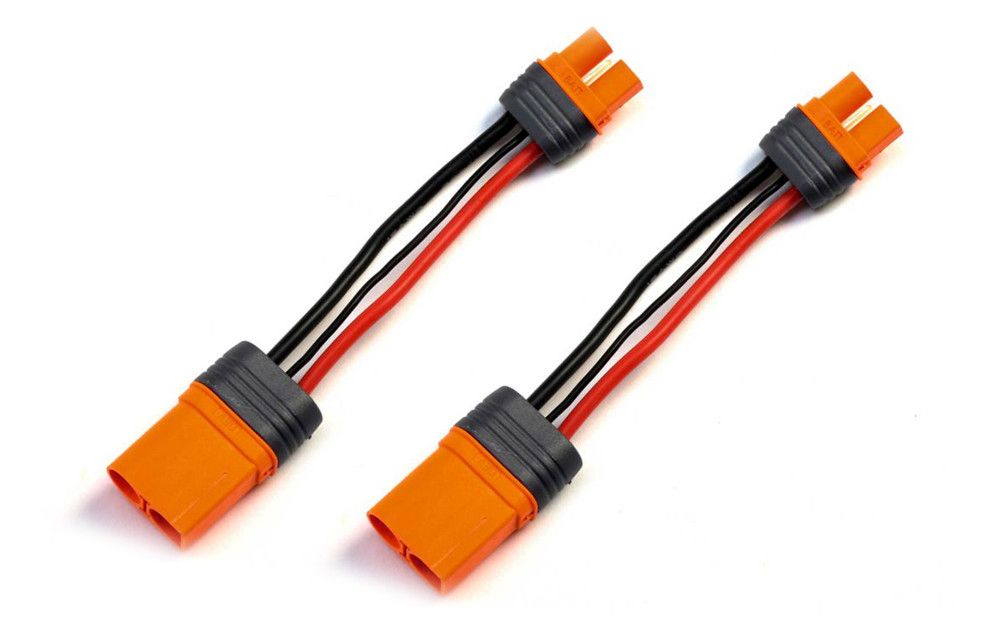 CHARGE LEAD ADAPTERS
The Powerstage Bundle includes 2 IC3 Battery / IC5 Device charge lead adapters to make charging two batteries easier.