Roll over image to zoom in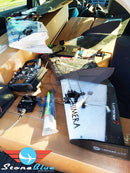 Description
*SPECIAL ORDER*
One of the most iconic FPV wings has been reborn with improved performance and payload capabilities.
The New Chimera HD edition is an updated Chimera v1 platform designed for long duration & super stable HD video.
Drop your Gopro inside the included Gopro box to capture stable footage without the need for a stablizer.
Included in the kit:
Airplane frame
Laminating film
2 tubes of adhesive
Motor mount
Solid wood elevons
Fiberglass spars
Winglets
Midwing Stabilizers (minimizes tail-wag)
Landing skids
Control linkages
Control horns
Weight: 2kG (4.2lbs)
Range: 50km (35 miles)
Speed: 110km/h (75mph)
Distance: 60km (40 miles) round trip